It's been just over two years since we established the MLP office in July 2014. It's been great to have a dedicated space for the MLP team to come to and work together. It's facilitated projects like the updated websites, the books coming out in print, Total View episodes, working at combating plagiarism of our authors' works, and the day-to-day administrative work we have for the organization.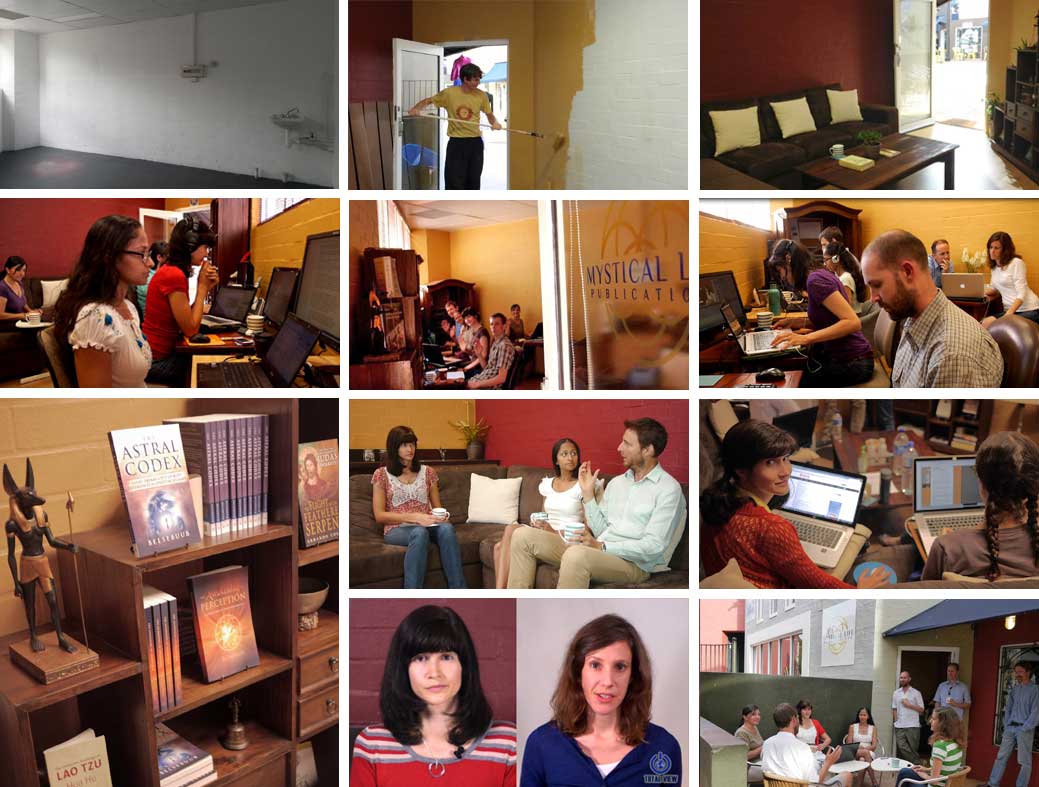 Things are evolving for MLP and we have big plans and big ideas for the future.
We've been doing a lot of reflecting on where things are at for Mystical Life Publications, where we are and where we want to be. We have so many projects in the pipeline to get the works of our authors and the message of the spiritual sun out to the world, but a small team of people who can only dedicate a limited amount of time to MLP.
What we see that could give MLP and its projects a big boost is having the core MLP team being able to spend more time working for Mystical Life Publications instead of other jobs. Most successful publishing houses have a dedicated team of full time workers. Imagine what Mystical Life Publications could do if it had that. So many more projects could happen, and could come to fruition sooner.
The lease on our office space came to an end in July 2016, and we have been staying on month to month while we worked out the best way to proceed. We came up with a plan, and decided not to continue our lease at the office in Fremantle, with September being our last month there. Instead, we've been able to rearrange things so that we can continue working together in a home office type of space, as we see having an office environment to work together in as something essential, but with this new arrangement we have also been able to bring on an MLP team member who can now focus on MLP full-time. As things grow and expand, we'd like to bring more people on as staff to MLP and will look at the possibility of expanding out into a public book shop/office type of space in the future.
Mystical Life Publications will always have people volunteering their time to the organization, since there is so much to do to get what we do out to the world, but we see this vision for having a full time team dedicated to MLP as a goal to work towards.
As far as fundraising goes, our total target amount to raise each month to start with will remain the same as it was. However instead of that total amount covering the baseline operating costs and the office space and utilities, it will now cover our baseline operating costs and one part-time wage. Mystical Life Publications being able to pay someone a part-time wage makes it possible for that person not to need other paid work, and can be fully dedicated to MLP. We've updated our donations page and how we reach out for funding.
Any extra funding we receive would enable us to bring more people on-board the team working for MLP, allowing us to do more with projects, and take on new ventures.
We have been absolutely amazed by the generous support we have received over the last two years, that has kept us going. We are so thankful for all the support we have been given.
We especially thank those that have supported the office, from the early days in finding the place and renovating it, to the month to month support that kept it going. It has made such a difference to our work together and what we've been able to achieve.
Now a very new and exciting chapter is starting, which has begun with starting to get our authors' books out in print, especially The Path of the Spiritual Sun. We feel that what we publish has so much potential, and has the possibility to go far and wide, reaching into all corners of the world, and that is our aim.
Next on the release list is Gazing into the Eternal in paperback, which should be released in the next few weeks, then next is Self-Knowledge for Spiritual Awakening in paperback.
Well that's it for now. We can't express our gratitude enough – thank you everyone so much for your support in every way, it's so much appreciated. Here's to the future!