My update on the Belsebuub's printed books comes a few days later than I thought 🙂 However, Lara on the Belsebuub.com site did an update blog on the books they have been working on and where things are at, so she spilled the beans before I got the chance to!
So if you haven't read her blog, they finished revising The Path of the Spiritual Sun, and it's going through the proofing stage. We're hoping to start formatting the book later this week, and plan to have it out in late April.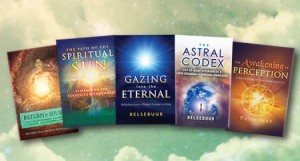 With The Astral Codex by Belsebuub  in paperback – it should be available sometime late this week! We'll let everyone know when it's available.
We've updated our books page, which has a list of all of the titles we publish, their availability, and expected release dates.
All of Belsebuub's current books are available from Amazon, however you may find you are able to get the book with reduced shipping costs closer to home from one of the other retailers on our worldwide retailers list.
We'll that's it for now. Thanks for everyone's support and excitement for the upcoming books and for the release of the upgraded site!