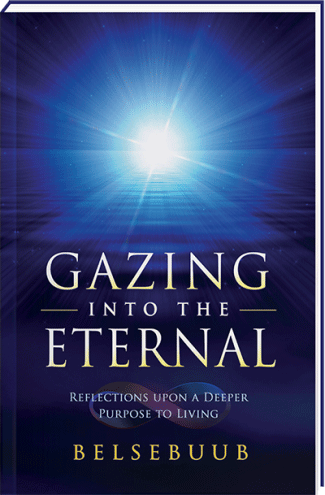 The day is finally here, Gazing into the Eternal by Belsebuub is out in paperback again!
The book was originally released in 2009 and was a finalist in the Best Book Awards 2009 in Spirituality, was featured on the cover of Publishers Weekly, and received a 5 star review in Foreword Magazine.
From the back cover:
"Gazing into the Eternal is a collection of a number of Belsebuub's key talks that provide an introduction to spiritual knowledge. It takes a clear and easy-to-understand look at some of the most profound questions we face, such as what happens when we die, is it possible to have the divine within, what are the causes of suffering, and how can spiritual realities be personally explored."
This book has been a little journey in production with developing new font layouts for our print books going into the future. It's been nice revisiting this book and spending so much time with it. Each chapter is full of amazing spiritual insights and perspectives on many aspects of life. We hope you enjoy it!
You can learn more about the book here and where you can purchase it from here https://www.mysticallifepublications.org/worldwide-retailers-gazing-eternal-belsebuub.
Thanks again to everyone that continues to support Mystical Life Publications. Your support makes all that we do possible.