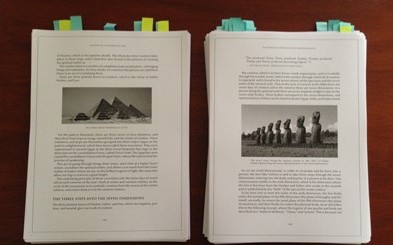 Just wanted to give a bit of an update on how the printed books are going.
The other week, Dara and I did prints of the covers for Belsebuub's books The Path of the Spiritual Sun and Gazing into the Eternal, to get a sense of how they would look in print. They're looking good! We also did a test print of The Path of the Spiritual Sun inside pages to see how the layout was looking in print and how the images were printing, and overall we were quite happy with the result.
Last week Jon and I worked solid on finishing up the book, using the test print to adjust images and layout issues, and pulled together the final components of the book. We sent The Path of the Spiritual Sun to the printers on Friday, and a proof is on the way!
We have a planned release date of Friday the 26th of August. It could be a bit sooner if all goes well with the proofing process, or a bit later if we need to do some adjustments. It will be available by the end of August, and we'll keep everyone updated on its release and where it can be purchased online.
Gazing into the Eternal in paperback is not far behind; we just have a few things to finish up before sending that book to print. If all goes well, it should also be available by the end of August.
Again, we just wanted to sincerely thank everyone that has been supporting us these past months, we really really appreciate it. It's kept us going and has allowed us to move projects like these books forward. THANK YOU!